Latest News
06/16/2015
KLM UK Engineering has taken on BA CityFlyer contract in Edinburgh
KLM UK Engineerig expands its line maintenance activities within the UK
Paris, Amstelveen, Norwich, 16 June 2015 – KLM UK Engineering has signed a 3 year contract with British Airways' wholly owned subsidiary BA CityFlyer,to take over the line maintenance for its Embraer E170 & 190 fleet in Edinburgh. Andy Mackay, Operation Director adds, 'We are pleased to be building on our expanding line maintenance portfolio within the UK and look forward to a long term relationship and future work with BA CityFlyer'. KLM UK Engineering has had a line maintenance station at Edinburgh for over 25 years and is pleased to expand its customer base to include BA CityFlyer. During 2014 KLM UK Engineering welcomed an extensive growth to its line maintenance in the UK and operates supporting hubs at major UK airports.
About BA CityFlyer - Launched on 5th March 2007, BA CityFlyer is a wholly owned subsidiary of British Airways operating a network of UK domestic and European services from LondonCity airport. We have expanded our aircraft fleet and route network at LondonCityAirport where we are now officially the largest operator with the highest number of destinations and customers. This year British Airways serves 29 destinations from London City Airport, of which 26 are operated by BA CityFlyer and are perfect options for both business and leisure travel. BA CityFlyer currently operate a fleet of twenty aircraft comprising 76-seat Embraer 170s, 98-seat Embraer 190SR' and 50-seat Saab 2000s following extensive recent fleet expansion. BA CityFlyer also operates a variety of charter services from airports around the UK on behalf of other airlines, tour operators and private clients.
03/12/2015
KLM UK Engineering Awarded Apprenticeship Employer of the Year
KLM UK Engineering has been awarded Apprenticeship Employer of the Year for Large Company (over 250 staff) by City College Norwich at their annual Apprenticeship Awards
Andy Mackay, Operations Director, KLM UK Engineering said: "We are extremely honoured to have received this award and look forward to our continuing cooperation with City College Norwich and, in the future, the newNorwichInternationalAviationAcademy. For the apprentices, a 4-year Apprenticeship programme at KLM UK Engineering gives the successful candidates the ability to build a career which is very varied and gives them a great challenge both mentally and physically in maintaining modern jet aircraft."
Photographed left to right - Arjan Meijer, KLM UK Engineering Managing Director, Andy Mackay, KLM UK Engineering Operations Director & Corrienne Peasgood, Principle at City College Norwich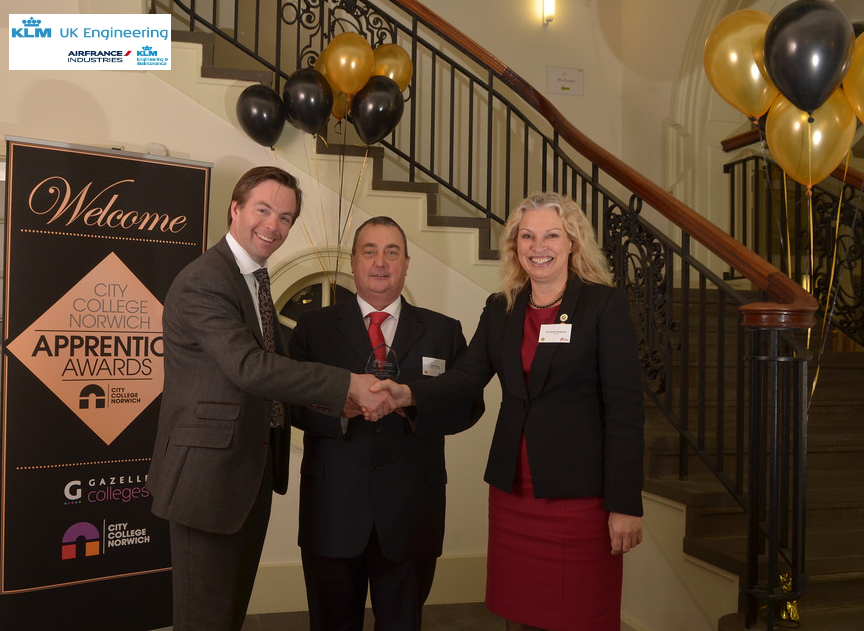 03/06/2015
KLM UK Engineering awarded AFRA Accreditation for Aircraft Disassembly
KLM UK Engineering awarded AFRA Accreditation for Aircraft Disassembly
AFI KLM E&M subsidiary offers support for the entire aircraft lifecycle.
Paris, Amstelveen, Norwich – 6 March 2015 – KLM UK Engineering is pleased to have been awarded the Aircraft Fleet Recycling Association (AFRA) Accreditation for Aircraft Disassembly.
Building on the existing EASA Part 145/147 & FAA 145 Approval and the UK Environment Agency Approval, KLM UK Engineering operates a purpose built disassembly facility delivering a quality product.
Norwich based KLM UK Engineering, which is part of Air France Industries KLM Engineering & Maintenance, has over 40 year's experience in aircraft maintenance. KLM UK Engineering operates a 5 bay heavy maintenance facility, a disassembly and recycling centre, a network of line stations and a technical training college. As such, KLM UK Engineering offers support for the entire aircraft lifecycle.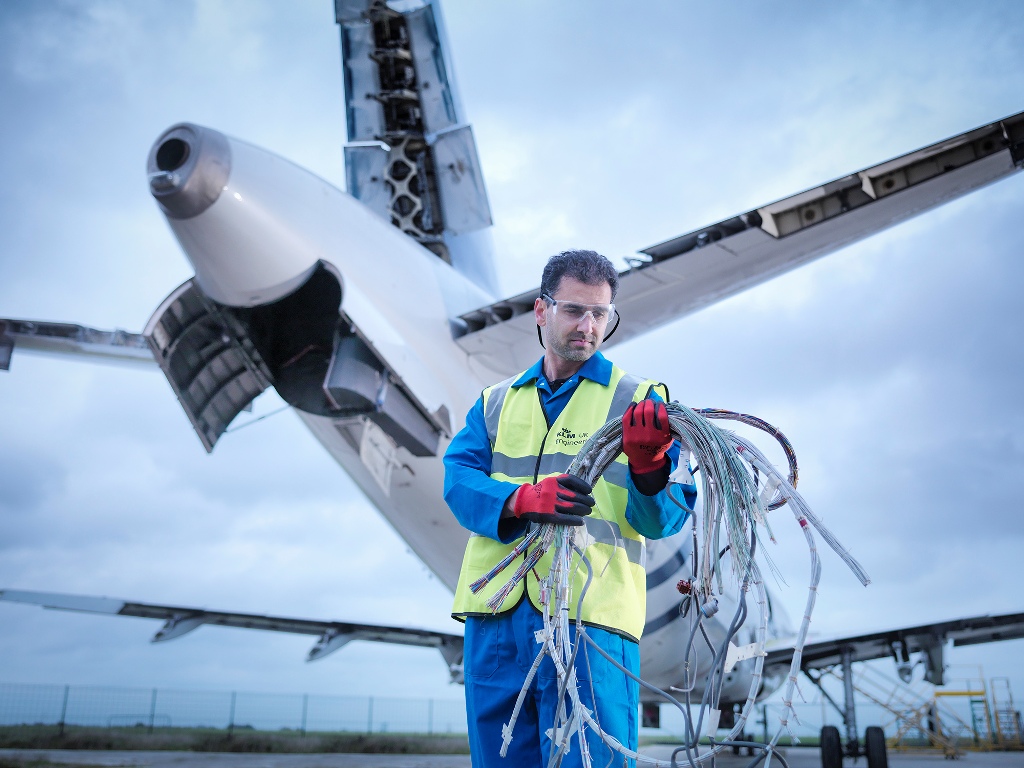 01/29/2015
NORWICH INTERNATIONAL AVIATION ACADEMY READY FOR TAKE OFF WITH £3M FROM GOVT GROWTH DEAL
NORWICH INTERNATIONAL AVIATION ACADEMY READY FOR TAKE OFF WITH £3M FROM GOVT GROWTH DEAL
Aspiring aviation students are one-step closer to achieving their ambitions after New Anglia LEP secured £3m Growth Fund money to kick-start the development of the aviation academy at Norwich International Airport.
The £12.5m project, unveiled in September 2013, will create an internationally-recognised centre of excellence for education and skills in aviation with a unique collaboration between the region's employers, education groups, the LEP and local authorities.
It will be the first of its kind in theUKand support 80 engineering apprenticeships per year, as well as degree-level and further and higher education courses in engineering, airport operations and cabin crew training, for hundreds of students.
The £3m secured by the LEP will pay for the creation of the centre at the airport.
Mark Pendlington, chairman of New Anglia LEP said: "This project is the centerpiece of all our ambitions to create an aviation cluster around Norwich Airport. The benefits of this academy will be felt by aviation businesses across the UK and the world, it will be a powerful draw for further inwards investment and once again give our region a strong competitive advantage over other key European locations.
The academy presents a whole new world of opportunities for local students and we are delighted to have been able to support its creation."
Andrew Bell, Chief Executive of Norwich International Airport, said. "The Norwich International Aviation Academy addresses two key issues. Firstly it helps to satisfy the demand for diverse skills at Norwich Airport, a demand which is increasing as the airport, and the businesses that are based here, grow. Without the right skills, the potential of these businesses, and of the Airport, will not be realised.
Secondly, it projects a clear message both across the UK and internationally that we are intent on becoming a centre of excellence for aviation. There is a well-documented global skills deficit across a range of aviation activities which the academy will help to address. This facility will enable local students to go global in their career ambitions, and will attract students into the region from the UK market and overseas."
KLM UK Engineering Limited has been a founding partner in the project.
Arjan Meijer, managing director, said: "KLM UK Engineering is looking forward to delivering its Aircraft Engineering courses to a much larger group of students through the NIAA than can currently be managed at our own college. This will allow the company to transfer its excellent skills and knowledge to the aircraft maintenance engineers of the future.
I am very excited about the academy as it will significantly increase the availability of local technically trained staff for our company. To interest future generations early-on for jobs in aviation is crucial, not only for sustaining our current aircraft maintenance business, but also to allow for further growth of our industry worldwide. The NIAA will position Norwich firmly on the international aviation industry map."
Simon Witts, Chief Executive of Aviation Skills Partnership said: "We are delighted that we have been able to play a pivotal role in bringing the partners together to make this project a reality. With our main skills partners City College Norwich and University of East Anglia and main project partners NPS Group and WT Partnership, we are immensely proud that we can launch the first of our planned Aviation Skills Hubs in Norwich, a City within a region that I believe offers exactly the right ingredients for a successful academy".
The remainder of the £12.5m investment is expected to come from loan funding and the private sector, who will provide the "real world" training experience with a full size aircraft, plus additional equipment and aviation facilities.
It is supported by a core group of founding partners, including KLM UK Engineering, Norwich International Airport, Aviation Skills Partnership, City College Norwich, University of East Anglia, New Anglia LEP, Norwich City Council, Norfolk County Council and Broadland District Council.
The Academy plans to open its doors in September 2016 although a 'feeder' programme with City College Norwich started in September 2014.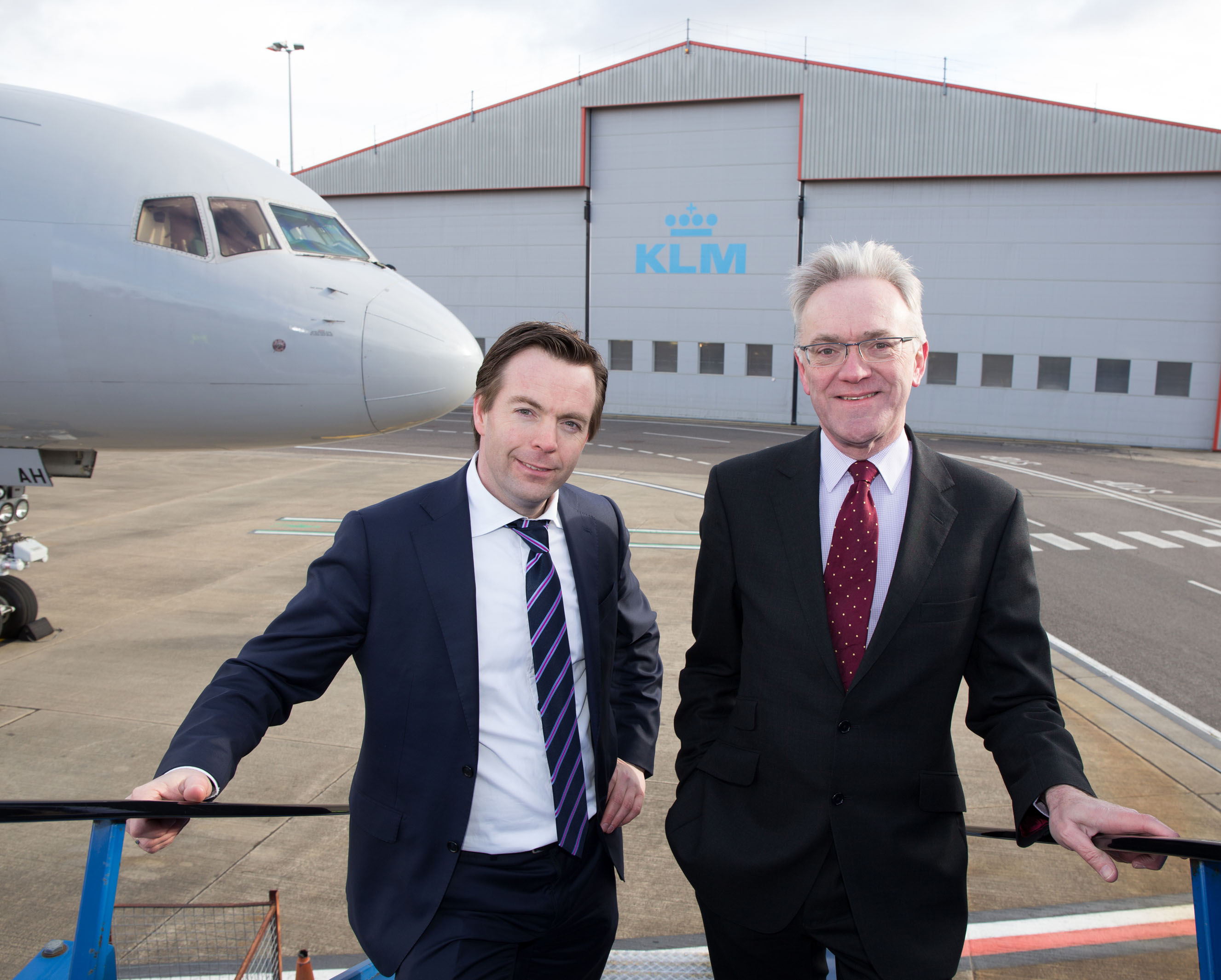 09/18/2014
KLM UK Engineering Limited - Widens Its Portfolio by Obtaining FAA Approval
KLM UK Engineering Limited Widens Its Portfolio by Obtaining FAA Approval
Paris, Amstelveen, Norwich, September 18, 2014.
KLM UK Engineering Limited is pleased to announce that it has obtained its FAA Approval this year.
Expanding the KLM UK Engineering's portfolio
KLM UK Engineering Limited is one of the first UK based MRO's to be certified by the Federal Aviation Administration since the US Department of Homeland Security Transportation Security Administration prohibition stopping the FAA issuing any new foreign repair station certifications was lifted early this year.
Arjan Meijer Managing Director of KLM UK Engineering Limited comments "KLM UK Engineering Limited has always had the expertise and facilities to accommodate the required work. It has been a long process, but now we are very pleased to have obtained FAA certification. This new approval allows us to expand and develop our current maintenance activities and we look forward to welcoming new customers to our hangars".
About KLM UK Engineering Limited
KLM UK Engineering Limited (KLMUKE) is the leading UK based Maintenance Repair Organisation (MRO) offering a high quality service and products from its head office location in Norwich, at Norwich Airport. With 5 fully equipped modern heavy maintenance bays across 3 hangars and over over 40 years of experience on many aircraft types, including Embraer 170/190, Boeing 737 All Series, Airbus A320 Family, BAe 146 & Avro RJ and Fokker 70/100 types, KLM UK Engineering Limited (KLMUKE) has a solid customer base. Included in our capability and experience is the ability to carry out heavy modifications either at our Norwich facility or at the operator's home base.
There is an extensive on-site Workshop supporting all base maintenance activities, delivering a high quality of modifications, repairs, overhaul, NDT, Paint Shop, Trim Bay, Composite and component repairs.
KLM UK Engineering Limited (KLMUKE) has been based at Norwich Airport for 40 years and employs approximately 370 people and provides line maintenance support throughout the UK. The Company prides itself on having an experienced and skilled work force, delivering a superior service and high quality product at a competitive price.
KLM UK Engineering Limited (KLMUKE) has an on-site Part 147 Technical Training College delivering BSc (Hons) Professional Aviation Engineering Practice, Aviation Engineering, EASA CAT A, B1.1 & B2 Type Training / Basic courses, Compliance and e-learning training.
09/18/2014
Airbus A320 Family
KLM UK Engineering Limited, operating within AFI KLM E&M's global MRO network, specialises in maintaining regional jets and narrow-body fleets. The Company has both EASA Part 145 certification & FAA Approval and aims to bolster and further develop its positions in this market with the addition of the Airbus product.


A European leader in the single-aisle passenger aircraft market and having an internationally acknowledged expertise on the Boeing 737, KLM UK Engineering has extended its services to the other workhorse in this segment, the Airbus A320. To meet the growing demand for A320 support for its customer base, the AFI KLM E&M subsidiary is diversifying by adding this type to its maintenance capability. The company has already successfully delivered maintenance and end-of-lease checks, and has three heavy maintenance checks scheduled for the winter 2014/15 programme. This latest offering compliments existing A320 maintenance capabilities in the AFI KLM E&M MRO network in Toulouse (France) and Casablanca (Morocco) and will help to extend group services for both new and existing group customers' fleets, for regional jets and narrow-bodies.

Adaptive services
KLM UK Engineering has been based at Norwich International Airport in the United Kingdom for over four decades, and is well-known in the industry for providing base and line maintenance for Boeing 737s, Fokker F70/F100s, BAe146/AvroRJs & more recently the Airbus A320 Family & Embraer 170/190. These core capabilities include the technical training college which has been in operation for over 25 years, and in this time has directly trained staff and successfully run an in-house apprenticeship scheme. It is currently offering a virtual learning environment product for EASA B1 licenses as well as several Airworthiness courses. KLMUKE is promoting these to the market, both for commercial and military operations. The college has been working with Kingston University in London for over 10 years to deliver a foundation course in aircraft engineering & BSc Hons Aircraft Engineering. The Company has recently added a range of unique services to meet specific carrier demands, such as the decommissioning of aircraft, in order to provide its customers with a truly full scope of services during the lifetime of their aircraft.
KLM UK Engineering operates in a modern facility structured around its three hangars, with five heavy lines of maintenance along with line maintenance stations throughout the UK, including Norwich, Edinburgh, Newcastle, Manchester and Birmingham. With over 30 customers, including Air France, KLM, Transavia Netherlands/France, CityJet, Jet2.com and British Airways, KLM UK Engineering is continuing to expand, driven by a robust portfolio of strengths.
"We are recognised in the market place and by our customers for our ability to provide competitive rates and high operating standards," adds Arjan Meijer. "This is especially visible in our very short turnaround times (TAT) and our exacting quality standards covering the entire company, which has been further enhanced by the deployment of Lean Six Sigma throughout."