Media

dentCHECK 3D Surface Insp
Download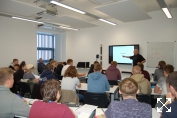 EASA Training B1.1 B2
Download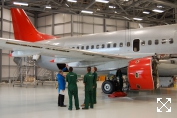 EASA Training B1.1 B2
Download
KLM UK Engineering Limited - Charity Policy
Currently KLM UK Engineering Limited (KLMUKE) is supporting the East Anglian Air Ambulance and MacMillan Nurses
Requests for adhoc charity support will be reviewed but we cannot guarantee that we will be able to support. Thank you for your interest in KLMUKE.
KLM UK Engineering Raise £400 in Charity Raffle on Norfolk Day for East Anglian Air Ambulance
Thank you to everyone that visited our stand at the Royal Norfolk Show 2018 - it was great to meet you all and see you in October at the Norwich Science Festival
KLM UK Engineering took part in #norwichairports #charity football 6 aside tournament in aid of #eastanglianairambulance #football #aviation #aircraftmaintenance
KLM UK Engineering Apprentices assist the RAF during their 100 year celebrations at Norwich Airport by making sure that the Hawk Jet on display outside the terminal was nicely polished for the weekend visitors!
KLM UK Engineering supports Catton Grove STEM Club with their Go-Cart Challenge!
KLM UK Engineering take part in East Anglian Air Ambulance Charity 50 Mile Cycle Ride - 18 MAY 2018
KLM UK Engineerings Charity Golf Day raises £1,500 for East Anglian Air Ambulance - thank you to our players & sponsors - Aerfin, Qualitair, Aeroco, Norwich Airport & 1st Choice Aerospace
30 Years Service at KLM UK Engineering Limited - Proud of Our People
Congratulations to 10 colleagues celebrating their 30 Years Long Service Awards at KLM UK Engineering Limited, including 7 apprentices! Thank you for dedication over the years & here's to many more!