Processes & Quality
KLM UK Engineering (KLMUKE) runs a continuous improvement programme to meet customer product and service needs.
We have a dedicated Innovations Team that work closely with our engineers to ensure efficiency and best working practice.
KLM UK Engineering (KLMUKE) is constantly improving the quality of its systems, products, services and processes.
Technical Training
Technical Training
Type Training Courses - Boeing 737 Family / Embraer 170/190
EASA Part 66 B1.1 & B2 Online Training
Initial & Continuation Courses
Aircraft Engineering Apprenticeships
BSc Professional Aviation Engineering Practice
Visual Measures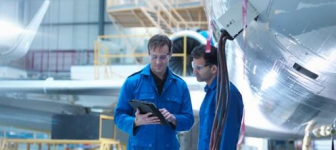 Visual Measures - Base Maintenance MRO
Full visual update on aircraft check progress
Real time information
Feeds directly into planning
Dedicated planner per maintenance check
Component Repair Shop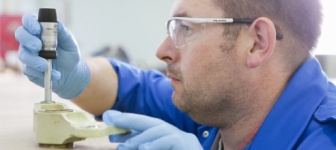 On-site Component Repair Shop
Advanced composite repairs on wing
Engine Storage
Fan Blade Lubrication
Extensive sheet metal work experience on all SRM repairs
Full aircraft interior refurbishment
In-house calibration
Our People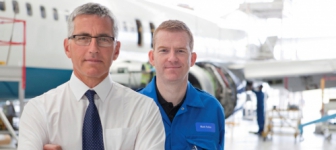 Our People
Successful training programmes
Experienced
Knowlegeable
Flexibile
Highly skilled and motivated
KLM UK Engineering Limited (KLMUKE) is a Maintenance Repair Organisation approved by EASA, FAA, CASA amongst others and has over 40 years experience in aircraft maintenance and airline support.
KLM UK Engineering Limited (KLMUKE) operates an integrated Safety & Quality system which provides the platform for delivery of its products and services and is committed to continuous improvement. The continuous improvement policy guarantees:
The organisation and services place flight safety, before business or commercial imperatives
Audits, inspections and strict oversight of the quality system with the wholehearted involvement of everyone at KLM UK Engineering Limited (KLMUKE)
The relentless pursuit of imaginative ways to provide efficient services that keep our customers safe
Feedback within KLM UK Engineering Limited ensures the development of improved and new processes and the monitoring of indicators constantly feeds into the Continuous Improvement Plan.
Key Performance Indicators tracked by KLM UK Engineering Limited in this regard are:
Internal non-conformities
External non-conformities
Oversight of sub-contractors
Occurrence reports
KLM UK Engineering Limited pursues a work place that is free from hazards and a culture that is at all times 'just'.